The Dream by Kristian Sensini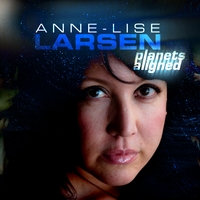 Buy Album
From the album
Album Title: Planets Aligned
Anne-Lise Larsen
Released: 0
Listen
Broken link? Report it to us
About the Album
Recorded in Sydney, Australia in 2009. The Dream was first written by Anne-Lise Larsen in 2003 but it wasn't until 2009, that the final verse lyrics and arrangement fell into place. The Dream's subject looks at the beginnings of love, when all good feelings of desire and adventure in new love abound, while wondering if something so good could possibly be happening. A latin inspired dreamy electronic arrangement heavy on the vibraphone, with a samba double bass ostinato in the verses, and a drenched use of latin percussion, including bongo slicks, guiro, claves, maraccas, castanets, cowbell and tambourine. This song, and Anne-Lise's album, Planets Aligned, was recorded and produced by Larsen in her Sydney studio. All vocals, instruments and programming also by Anne-Lise Larsen. A one-woman production.
Personnel
Date featured
November 15, 2009
This track appears by permission of the contributing artist and/or record company.
It is for personal use only; no other rights are granted or implied.