P.M. by Dave Askren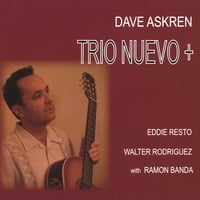 Buy Album
From the album
Album Title: Trio Nuevo +
Label: DaWayMusic
Released: 0
Listen
Sign in
to view listen count
Broken link? Report it to us
About the Album
This Askren original P.M. was originally recorded on his Some Other Things as an energetic quasi-bossa. Here, it is a relaxed, sparse cha-cha-cha, with guitar, Eddie Resto on bass and Walter Rodriguez on congas (no other drums.) Dave stretches out and does some of his best playing here as the set comes to a groovy, relaxed close.
Personnel
Date featured
February 24, 2008
This track appears by permission of the contributing artist and/or record company.
It is for personal use only; no other rights are granted or implied.