On Green Dolphin Street by Dan Freedman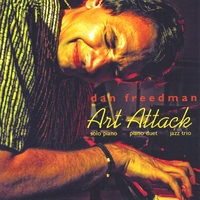 Buy Album
From the album
Album Title: Art Attack
Four Hearts Music
Released: 0
Listen
Broken link? Report it to us
About the Album
An airy yet energetic re-interpretation of this jazz standard, with Dan Freedman on piano and bass (overdubbed), and Brazillian percussionist Giba Moojen on drums.
Personnel
Date featured
January 19, 2009
This track appears by permission of the contributing artist and/or record company.
It is for personal use only; no other rights are granted or implied.