Another Mood by Rich Lamb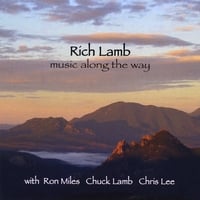 Buy Album
From the album
Album Title: Music ALong The Way
Unknown label
Released: 2008
Listen
Sign in
to view listen count
It's not real bechamel without the nutmeg. With enough Ron Miles and Chris Lamb to melt your hearts, a serene and beautiful tune.
About the Album
Melodic, improvisational, sonorous, big-eared, group delivered, cornet and piano flavored, original music served in fine and tasty jazz sauces a la Jarett, Mehldau and Tom Harell...Reached #14 on the Roots Music Journal. Featuring cornet master Ron Miles (currently performing with Bill Frisell), pianist Chuck Lamb (currently performing and recording with The Brubeck Brothers) and drummer Chris Lee (currently with the alternative chamber jazz group Primal Mates), the music is melodic and lyrical and played with sincerity, openness and with a hunger for the beauty that resonates with the heart. Like Oregon, there is an organic group sound as the music is delivered freshly, spontaneously and creatively. Rich Lamb: composer.
Personnel
Date featured
August 19, 2016
This track appears by permission of the contributing artist and/or record company.
It is for personal use only; no other rights are granted or implied.